Nike Refuses to Remove "Dope" and "Get High" T-Shirts From Boston Window Display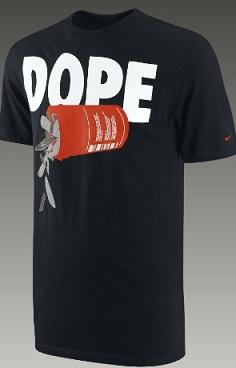 Nike is refusing Boston Mayor Thomas M. Menino's request that the company remove a window display with T-shirts that say "Dope" and "Get High" in one of their stores.
The mayor asked the Niketown store in Boston's Back Bay neighborhood to remove the T-shirts, saying they contain drug references and profanity that "are out of keeping with the character of Boston's Back Bay, our entire city, and our aspirations for our young people…not to mention common sense," the Boston Herald reports. The shirts also feature pill bottles, according to the article.
In a statement, the company said, "In no way does Nike condone the use of banned or illegal substances. This is about sport and being authentic to action sports. The shirts are part of an action sports campaign, featuring marquee athletes using commonly used and accepted expression for performance at the highest level of their sport, be it surfing, skate or BMX."