Most Alcohol Abusers Don't Think They Need Treatment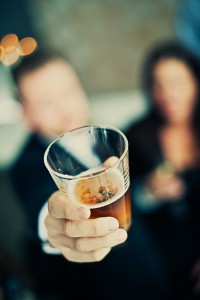 Only 1.2 percent of the 7.4 million American adults whose alcohol abuse is untreated think they need help, a new report shows. The results were released by the U.S. Substance Abuse and Mental Health Services Administration (SAMHSA) as part of National Alcohol Screening Day on Thursday, HealthDay reports.
The findings come from SAMHSA's 2006-2009 National Survey on Drug Use and Health. The survey also found that only 7.8 percent of the nearly 6 million American adults with untreated alcohol dependence, which is more serious than alcohol abuse, realize they need treatment. SAMHSA says the results indicate the need for increasing public awareness about adult problem drinking, identifying people with an alcohol problem, raising the issue with problem drinkers and knowing how to get help.
SAMHSA promoted an alcohol screening tool, http://www.howdoyouscore.org/, as part of Alcohol Screening Day. SAMHSA administrator Pamela S. Hyde, J.D., said in a press release, "Alcohol Screening Day provides one day to have the conversation we should be willing to have every day until screening for alcohol problems becomes the norm — just like heart disease, cancer and diabetes."