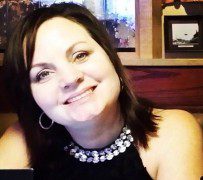 Before ever attending Champion Church, my life was in a quick downward spiral. So I'll start from the beginning… I was sexually abused over years, starting from the VERY young age of only three. I never even told ANYONE about the abuse until I was in my early twenties. I was a teen mom (times three) & a high school drop out. I eventually ended up addicted to meth. Started in my early twenties & we'll just say it lasted several years. We had attended several churches during my addiction & I had reached out to the pastors at each church. They would do their best to get through to me but there wasn't anything anyone could say that seemed to even remotely help!
My sister invited me to go with her to Champion because she wanted to check it out & didn't want to go alone, lol! At the time we were homeless, due to my addiction. That week, Johnee (my husband) dropped me off on a corner & told me to get out. He said he just couldn't do it anymore. I cried, walked back to my sister's house & had no doubt I would soon be divorced.
I stopped using that day, although it wouldn't be the first time for me to say it was the last time. I wanted to stop but simply didn't know how!? Meth was my number one priority, day and night! It turned me into something I am embarrassed to even remember, much less talk about. I had NO relationship with my boys, husband, sister, mom or any family member.
Sunday came & we all went to Champion Church for our first time… Both Johnee & I with the boys and my sister. I was on my 3rd day clean… Anyone who knows anything about meth addiction, knows the 3rd day is THE HARDEST! From the moment we walked in the front door, I LOVED it!! I loved the worship music, the ushers, the members, everything!! And after I heard Pastor Steve's LIFE GIVING message, I knew I was HOME! Tears streamed down my face from the moment worship started, throughout the whole service! Afterwards, the kids LOVED it as well & couldn't wait to go again the following Sunday! It was the first time they had actually been excited about church, lol!
It was during the month of October & Pumpkin Patch was just getting started! All of us signed up to volunteer in different areas & did the same with Jesus Is Born! Being involved & being a part of something bigger, with a purpose, completely changed my way of thinking! With each life giving message that I would hear every Sunday, it made me want to be the person that my husband, sister, mom & kids had all been struggling so hard to reach inside of me… The woman that they used to know. In October 2014, I am proud to say that I will have been clean for 8 years!!

I thank my Champion family for letting me in & accepting that lost person that I was! For loving that person in order for the real me to come back to life!! I can honestly & whole heartedly say that I don't know where I would be today if it weren't for Champion! Or if I'd even be here at all!! Today I am an Assistant Business Office Manager at a skilled nursing facility, I am pursuing a degree in healthcare management, my husband, my boys, my mom & my sister are all my best friends! I would do anything for them! Having a good relationship with all of my family is the most important thing to me!
Some may not agree with me making this public or posting on FB but people seem to always judge others when they have no idea what they have been through! By no means am I perfect or a saint, but it has taken a lot to overcome many obstacles in order for me to be who & where I am today! And considering I was abused from such a young age, a high school drop out, a teen mom times 3 & a meth addict, I should be dead in an alley somewhere!! So today, I thank God for just simple lil ol me!!