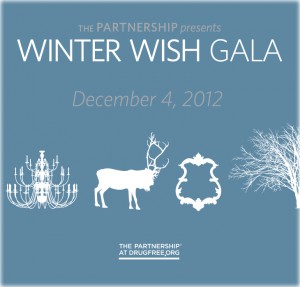 We are excited to announce our upcoming Gala, an event where we gather and show gratitude to those who support us and have been instrumental in helping us reach families in need.
Taking place on December 4th, the Partnership for Drug-Free Kids's 10th annual Gala, newly named  The Winter Wish Gala, will be held at Gotham Hall in New York City. The event will reflect our vision and "wish" that all young people will be able to live their lives free of drug and alcohol abuse.
The Winter Wish Gala will be hosted by Maria Bartiromo of CNBC. Gala honorees include JPMorgan Chase & Co. Vice Chariman James B. Lee, Jr., the National Basketball Association (NBA) and Sir Martin Sorrell, Chief Executive of WPP. A special tribute will be awarded to MusiCares, and the winners of the MLB Charities Commissioner's Play Healthy Awards will be personally recognized by CJ Wilson, All-Star pitcher for the Los Angeles Angels of Anaheim. The Loston Harris Trio will perform as part of the evening's entertainment.
We are deeply grateful to all of our supporters and look forward to recognizing your commitment to our cause on this special evening.
Learn how you can attend and support the event by purchasing tickets and  e-journal ads on our Winter Wish Gala event page.