Third Annual "Jeremy's Run" a Success
"Jeremy's beautiful smile would light up a room and his kind heart would warm it" –Cyndi Glass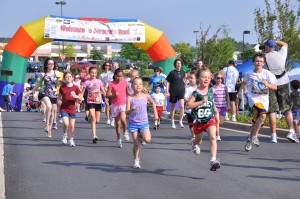 The Partnership at Drugfree.org recognizes Cyndi Glass and all of the supporters who helped make "Jeremy's Run" a successful event, with more than 1,000 people who actively participated in the annual run. Jeremy's Run is held in memory of Jeremy Glass, who died at age 20 from complications related to drug addiction. 
For the third consecutive year, Jeremy's family, led by his dedicated mother, Cyndi, worked tirelessly to unite their local Maryland community and encourage others to participate and get involved. Supporters joined the effort to help decrease the stigma that is associated with the disease of addiction.
"Jeremy's Run, which took place on Memorial Day this year, has grown so much in such a short time. It is inspiring to our family to see that there is a growing awareness about the dangers of substance abuse," said Cyndi Glass.
The Partnership at Drugfree.org extends our appreciation to the Glass Family, and their community, for joining with us in helping parents prevent substance abuse in their own families and get help for a child who may be struggling with drug or alcohol addiction.
We look forward to another successful "Jeremy's Run" next year!
Learn more about Jeremy's Run.