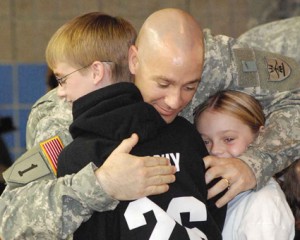 By harnessing resources and expertise across the federal government, the Obama Administration is making strides in helping improve the quality of military family life.
The White House announced its plans to help communities more effectively support military families, ultimately improving the long-term effectiveness of U.S. military forces.
The President has said that the care and support of military families is a top national security policy priority. In May 2010, President Obama directed his National Security Staff to develop a coordinated federal government wide approach to support the needs of military families. The effort announced this week will:
 *   Enhance the well-being and psychological health of military families
 *   Ensure excellence in military children's education and their development
 *   Develop career and educational opportunities for military spouses
 *   Increase child care availability and quality for the Armed Forces
the Partnership for Drug-Free Kids also recognizes the importance of providing assistance with the complex, extraordinary circumstances often faced by military families, especially in wartime, when they are in particular need of this kind of help and support. To learn more about these resources, please visit the military families section of Time to Talk.