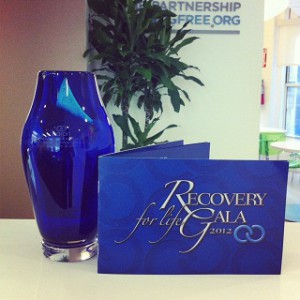 Steve Pasierb, President and CEO of the Partnership for Drug-Free Kids, accepted the Community Leadership Award at Caron Treatment Centers' Recovery For Life Gala last week at the National Museum of Women in the Arts in Washington, D.C.
The inaugural event, held on September 12, honored individuals who have made a difference in the lives of those suffering from drug and alcohol addiction, including U.S. Representatives John Sullivan (R-OK), Mary Bono Mack (R-CA), Tim Ryan (D-OH) and Paul Tonko (D-NY), as well as Robert L. DuPont, MD, President of The Institute for Behavior and Health, Inc.
In accepting the award, Pasierb said, "From day one we have lived by the mantra that drug and alcohol use is a preventable behavior, and that addiction is a treatable disease. The deep, science-based resources we've built on our website, our programs that reach communities across the nation, our Parents Toll-Free Helpline at 1-855-DRUGFREE (1-855-378-4373) show we can help lower those barriers to treatment at the same time that our prevention efforts bring down the number of children who need help. Thank you from the bottom of our hearts for recognizing the work of the Partnership for Drug-Free Kids, and including us here tonight among extraordinary individuals."
Caron Treatment Centers is a leading, nationally recognized, non-profit provider of alcohol and drug addiction treatment.