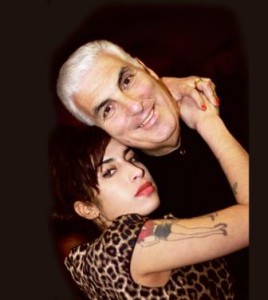 ~Winehouse to Host Live FACEBOOK Chat on Substance Abuse~
New York, NY, June 20, 2012 – the Partnership for Drug-Free Kids, a national nonprofit helping families solve the problem of teen substance abuse, will partner with Mitch Winehouse, father of the late renowned singer, songwriter and five-time Grammy award winner Amy Winehouse for the next "Meet The Parents Hour" Facebook chat and Q&A session taking place on Wednesday, June 27 at 3 p.m. EDT/12 p.m. PDT.
Through this interactive platform, Winehouse will answer questions about his family's experience with drug and alcohol abuse and discuss his new book, Amy, My Daughter, the inside story of Amy Winehouse's life and career.
Covering every aspect of her life, Amy, My Daughter is an intimate and definitive account of the life and legacy of Amy Winehouse. Within its pages, Winehouse charts his daughter's rise to fame and shares memories and personal anecdotes of Amy Winehouse's youth, memorable look and the dark undercurrents that ran through her personal life as her career flourished.
This special "Meet The Parents Hour" event will give parents, families and Amy Winehouse's fans a unique opportunity to interact with Mitch Winehouse and pose questions about his daughter and their family's struggle with her substance abuse issues. Visitors to the Partnership for Drug-Free Kids's Facebook wall during the chat can talk live with Mitch Winehouse and hear from others touched by addiction. Winehouse will be taking questions both ahead of time and also answering them in real time during the virtual event.
"We are honored that Mitch is able to join us for this chat and share his perspective and family stories about his remarkable daughter Amy," said Steve Pasierb, President and CEO of the Partnership for Drug-Free Kids. "The loss of the talented Amy Winehouse is tragic, and Mitch's willingness to share publicly is significant in helping reduce some of the stigma and shame that so often surround the disease of addiction."
Those who cannot participate live can submit a question to Mitch Winehouse in advance and he will try to answer them during the live chat. To learn more about the Partnership for Drug-Free Kids, please visit drugfree.org.