~Mullin to Host Live FACEBOOK Chat on Substance Abuse and Recovery as part of The Medicine Abuse Project ~
New York, NY, March, 7, 2013 – the Partnership for Drug-Free Kids, a national nonprofit helping parents solve the problem of teen drug and alcohol abuse, is partnering with former professional basketball player, fa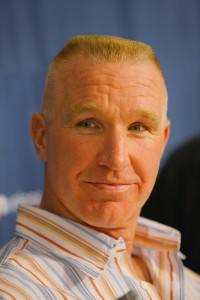 ther and ESPN sports analyst, Chris Mullin. He will be the featured guest on the next "Meet The Parents Hour," a popular, live Facebook chat and Q&A session taking place on Thursday, March 14 at 12 p.m. EST/9 a.m. PST.
Chris Mullin enjoyed a notable professional basketball career spanning over two decades with the National Basketball Association (NBA), spending 13 seasons with the Golden State Warriors and playing on five all-star teams. Mullin is a two-time Olympic gold medalist and was a key team member of the famed 1992 Olympic Dream Team.
Mullin, in recovery from alcohol abuse since 1987, began drinking in high school and recalls his father talking to him about their family history of alcoholism. It took his personal experience with alcoholism and his recovery for Mullin to truly understand his father's warning.
"As a father and a person in recovery, I truly believe that parents need to educate themselves about alcohol and drug abuse, so we can help protect our kids from these dangerous behaviors," said Chris Mullin. "Education and open, honest communication are so important and this is why I look forward to sharing my experience and story of recovery. In doing so, I hope I can help others who are now struggling, in the way that I was helped so many years ago."
Visitors to the Partnership for Drug-Free Kids's Facebook timeline will have the unique opportunity to chat live with Mullin and hear from others touched by drug and alcohol abuse. Like former professional basketball player Chris Herren, celebrity chef Andrew Zimmern and actor/author Melissa Gilbert before him, Mullin will be taking questions and answering them in real time during the virtual event.
"We are privileged to work with Chris. It's testimony to his commitment that he's taking a break from his 'March Madness' duties at ESPN to help us reach parents and families directly with his inspirational, personal story of recovery," said Steve Pasierb, President and CEO of the Partnership for Drug-Free Kids. "Chris is not only a renowned former NBA star, he is a loving father whose story lets others know that help is available, recovery is possible and the future can be bright."
The Medicine Abuse Project is a multi-year effort with the goal of preventing half a million teens from abusing medicines by 2017.  To learn more please visit The Medicine Abuse Project.
# # # #