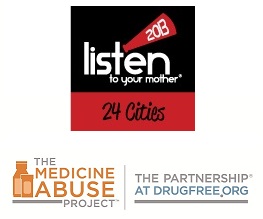 We are excited to announce that The Medicine Abuse Project has teamed up with Listen To Your Mother (LTYM), a national series of live readings from top women's voices from across the country, to raise awareness about the dangers of teen prescription drug abuse.
The series includes unique events that feature first-time and established writers and performers. They will take the stage and share poignant personal essays in front of live audiences, making for an unforgettable experience and celebrating motherhood in a meaningful new way.
Giving a platform to influential women around the nation, LTYM today releases 300 videos of past events on their LTYMShow YouTube channel, where we are a sponsor. Through these key voices in communities connected to parents and teens, we can further share information to help prevent and encourage others to help us end teen medicine abuse.
This partnership will culminate Tuesday, September 10, during a live online reading event where several women will share their personal story of teen medicine abuse and how it has affected their lives.
To learn more about The Medicine Abuse Project, visit drugfree.org/medicineabuseproject and follow the conversation online at #endmedicineabuse. For the Listen To Your Mother Reading Series please visit www.ListenToYourMotherShow.com.