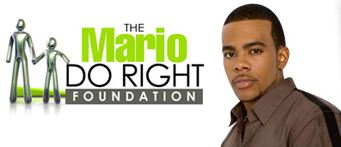 We are excited to announce that The Mario Do Right Foundation has joined The Medicine Abuse Project as an official strategic partner. The Mario Do Right Foundation will work to help us educate the public about the epidemic of teen medicine abuse and what parents and other stakeholders can do to help solve the problem.
"We are educating parents so that they'll be more cautious and knowledgeable of what's going on, and so that they have the ability to protect their children from prescription drug abuse," said Grammy nominated singer Mario Barrett, Founder of The Mario Do Right Foundation, of the collaboration.
Mario Barrett is a Grammy-nominated singer-songwriter, actor, dancer and model. The mission of the Mario Do Right Foundation is to educate, mentor and support youth adversely affected by substance abuse in their homes and communities.
"Mario has had an incredibly positive influence not only in his community of Baltimore, but also to a national audience of youth and young adults," said Marcia Lee Taylor, our SVP, Director of Government Affairs. "We're excited to add his voice to our efforts to end teen medicine abuse."