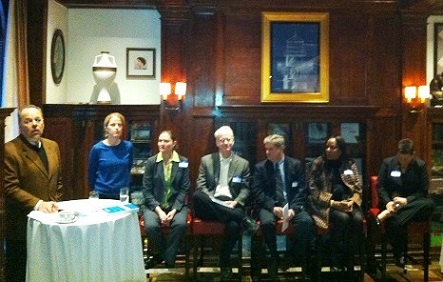 This week, the Partnership for Drug-Free Kids teamed up with The Center for Motivation and Change (CMC), a group of nationally recognized clinicians and researchers specializing in motivational and cognitive-behavioral approaches to addiction, for the launch event of their new book Beyond Addiction: How Science and Kindness Help People Change at The Lamb's Club in New York City.
The event included a panel discussion with the book's authors, the CMC's own Dr. Carrie Wilkens, Dr. Nicole Kosanke and Dr. Jeffrey Foote and was moderated by The Partnership's president and CEO, Steve Pasierb. Attendees learned how the book offers a roadmap to family and friends on how to help a loved one struggling with substance abuse, providing insight on how to use kindness, positive reinforcement and communication, together with limit-setting and self-care, to "stay connected" and help a loved one change.
Dr. Foote shared information on the CMC's The Parent's 20-Minute Guide, written for parents who want to help, stay involved, and provide a loving environment for their children. Based on the research-supported CRAFT approach (Community Reinforcement and Family Training), the guide provides specific strategies and ideas for parents to help prevent and constructively address substance abuse issues with their child, ranging from first experimentations to behavior that requires formal treatment.
The CRAFT approach has also been instrumental in CMC's training of The Partnership's new Parent Support Network, which provides direct peer-to-peer support and assistance to parents who are dealing with their teen or young adult's substance issues.
To close the panel, two members of the Parent Support Network, Lorraine McNeill-Popper and Lauryn Wicks each shared their personal story of how they have been impacted by their loved one's substance abuse. They illustrated how through their CRAFT education, they have been able to provide extra help to families being served on The Partnership's Parents Toll-Free Helpline (1-855-DRUGFREE), a nationwide support service that offers assistance to parents and other primary caregivers of children who want to talk to someone about their child's drug use and drinking. Once a caller has spoken with one of the Helpline's credentialed, bilingual specialists, they are offered an opportunity to connect with a Parent Support Network coach like Lorraine or Lauryn when appropriate.
For more information on The Center for Motivation and Change, Beyond Addiction, and The Parent's 20-Minute Guide, please visit motivationandchange.com. To learn more about our Parent Support Network and Parent's Toll-Free Helpline, please visit drugfree.org.