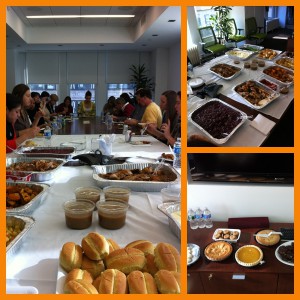 Thanksgiving is a time to reflect on the blessings in our lives. Whether your son had a great start to the school year in his recovery dorm or your daughter celebrated her six months of sobriety, there are many milestones to be thankful for.
Last Friday, our staff gathered to give thanks and sat down as an honorary "family" to have a pre-Thanksgiving luncheon. We are grateful to do be able to help families with our programs and services. This holiday, we wanted to share some of our comforts of home with you. From our family to yours, please find some of our favorite holiday recipes here:
the Partnership for Drug-Free Kids Thanksgiving Day Recipes 2011
We thank you for your loyal support and wish you a very Happy Thanksgiving!