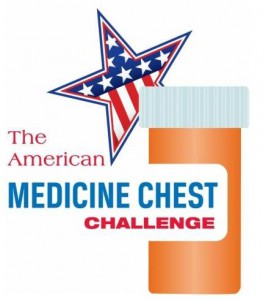 On an average day, 2,500 teenagers will abuse prescription medications—medicines that are often easily accessible in their own homes by simply opening a medicine cabinet or kitchen drawer.  In fact, 12 to 17 year olds abuse prescription drugs more than they abuse ecstasy, crack/cocaine, heroin and methamphetamine combined.  According to the National Institute on Drug Abuse, about nine million Americans use prescription medication for non-medical issues.
You can help stop prescription drug misuse and abuse by participating in the 2011 American Medicine Chest Challenge (AMCC), taking place nationwide on Saturday, November 12, 2011.  AMCC aims to raise awareness about the dangers of prescription drug abuse and challenges communities across the country to properly dispose of unused, unwanted and expired medicine.
To learn more and find a collection site near you, visit the AMCC website.