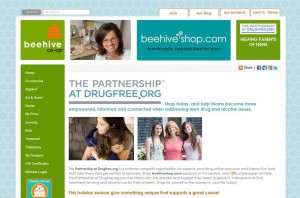 With the holiday season fast approaching, Beehiveshop.com - an online retail destination of community-based designers - has joined us to give moms a jump on their holiday shopping and help support our mission to provide parents with the tools and resources they need to address teen substance abuse.
We talked with Petra Geiger, mom and founder of Beehive Co-op, about why this cause-marketing venture is so important and how moms across the country can help us educate and empower parents and other caring adults about teen drug and alcohol issues.
•  Why did you decide to partner with the Partnership for Drug-Free Kids?
Petra: Working with the Partnership for Drug-Free Kids presented an amazing opportunity to collaborate with a national organization that shares similar values with ours. It allows us to showcase our handmade, independently designed products to a national audience who is eager to find ways to give gifts with meaning, individuality and value while supporting a great cause. Everyone wants their dollars to work hard and this partnership offers that to customers – a great gift and a charitable donation all rolled into one!
•  What do you hope to accomplish and how does it work?
Petra: I hope that beehiveshop.com can gain national exposure and help you raise funds for the fantastic and much needed work you do. When moms (or the men in their life) shop on our website, 15% of the proceeds will help the Partnership for Drug-Free Kids continue your important work in providing moms with the answers and support they need to prevent, intervene in or find treatment for drug and alcohol use by their children.
•  When you started this project with the Partnership for Drug-Free Kids, what did you learn?
Petra: First of all I was amazed at the extent of valuable information and action oriented resources that the website offers – it is truly amazing. That sort of comprehensive information provides such a level of comfort to parents in distress. Just going through the site made me think about how important the relationship I have with my kids is going to be, especially when heading into high school, and how important it is to set the foundation of trust now.
•  How do you think your customers will respond?
Petra: I think people in general are looking for new ways to shop that are more gratifying and socially conscious. So the combo of buying a handmade or independently designed product that supports an emerging entrepreneur coupled with being able to support a great cause is such a win-win situation. I know that's what I am looking for as a mom and consumer, so I can only assume there are more of me out there. So, hopefully the response will be fantastic!
To start shopping and support the Partnership for Drug-Free Kids, visit Beehiveshop.com.