Presentation: Steve Pasierb Delivers Keynote at Women in Government's 15th Annual Western Regional Conference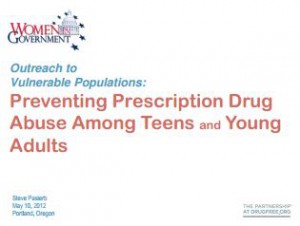 On May 10, 2012, our President and CEO Steve Pasierb delivered the morning keynote at the Women in Government's Outreach to Vulnerable Populations Conference, themed "Building Better Futures for America's Teens & Young Adults."  The conference was held in Portland, Oregon as the precursor to the Women in Government Western Regional Conference. The vulnerable populations focus brought together women state legislators from across the country to discuss current and emerging policy issues affecting teens and young adults, including addiction.
Steve spoke on the prescription drug abuse epidemic in America, sharing recent data from both The Partnership at Drugfree.org and Centers for Disease Control and Prevention. He examined what has been effective in various communities across the nation and discussed key points of leverage especially for elected officials, including advocating for mandatory prescriber education, prescription drug monitoring programs, using media to educate constituents and supporting national efforts to mobilize the public against medicine abuse.
View Steve's full presentation on the Women in Government website