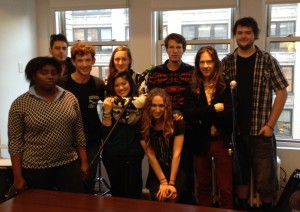 The incredibly talented musicians of Road Recovery's house band Type II gave a stellar musical performance for staff at the Partnership for Drug-Free Kids in New York City last week. The young musicians, all in recovery from substance abuse and addiction, performed some original songs, along with a cover of "Come Together" by the Beatles.
Individual band members earnestly shared their stories about their personal struggles with addiction, and explained Road Recovery's essential role in their commitment to their sobriety. Afterward, Partnership staff participated in an open discussion with the band members about their past experiences and their journeys to sober living.
Founded in 1998, Road Recovery helps teens and young adults live a sober life to help them cope with everyday triggers once they are in recovery. The organization also adheres to each participant's individual clinical treatment plan to ensure healthy, sober living within the network.
Through a special campaign to expand their programming, Road Recovery is currently on a mission to provide 5,000 at-risk teens access to help through their community outreach programs and local support services in 2014.