Remembering Dan Burke: Visionary, Gentleman, a True Leader on Behalf of American Families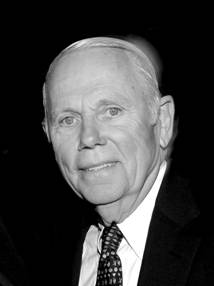 We remember and honor our friend and a founding member of The Partnership at Drugfree.org, Dan Burke, one of the most accomplished, inspirational and celebrated media and communications professionals of our time. The Partnership, the Burke family and the world lost a great man at the age of 82 on October 26, 2011.
The singular legacy of Dan Burke and the entire Burke Family at The Partnership is marked by enduring integrity, generosity, compassion and a steadfast commitment to making a measureable difference in the lives of others. Theirs is a peerless story of individual leadership, corporate citizenship and deep human caring.
No family has been of greater significance to our ongoing mission and accomplishment in helping parents prevent, intervene and get treatment for drug or alcohol use by their children than the Burke family.
While President at ABC/Capital Cities, Dan became a founding architect of what was then named The Media/Advertising Partnership for a Drug-Free America (today we are The Partnership at Drugfree.org) as well as a dedicated board member. In 1989, he recruited his brother Jim to become Chairman of our young nonprofit. Jim, recently retired as a revered Chairman and CEO of Johnson & Johnson, accepted the challenge with typical Burke passion that proved to be transformative.
As head of ABC/Capital Cities, Dan knew that the inherent power of the media, coupled with brilliant, research-based public health education messages would be effective in reaching parents and families on a preventable and treatable health crisis like the illicit drug epidemic of the 1980s. And as a loving father and grandfather, Dan believed in the importance of a proactive force to help bolster parents in keeping their kids away from drugs and childhood drinking.
There are no words to convey the heartfelt appreciation and depth of gratitude that our board of directors, our staff and our nationwide network of volunteers feel toward Dan Burke and his family for all they've done to ensure a brighter future for our nation's youth.
Dan, you will be dearly missed, fondly remembered and never forgotten.
Steve Pasierb
President and CEO