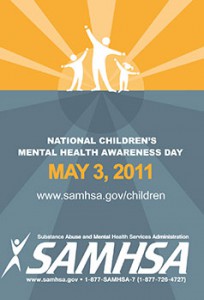 Today is National Children's Mental Health Awareness Day (NCMHAD), a day that aims to raise awareness about the importance of children's mental health and stresses that positive mental health is essential to a child's healthy development.
NCMHAD is a key strategy of the "Caring for Every Child's Mental Health" campaign and is part of the Public Awareness and Support Strategic Initiative by the Substance Abuse and Mental Health Services Administration, U.S. Department of Health & Human Services.
This year's national theme focuses on building resilience in young children dealing with trauma. Local communities from around the country will participate in NCMHAD by holding their own Awareness Day events, focusing either on the national theme, or adapting the theme to the populations they serve.
the Partnership for Drug-Free Kids recognizes the importance of good mental health in the lives of children and teens, particularly as it is a key indicator for potential drug and alcohol abuse. That's why we've partnered with from Columbia University's TeenScreen National Center, to help educate families about the link between substance abuse and adolescent mental illness and to broaden shared resources on teen health.
By bringing together information about the need for early identification of mental illness and early treatment from the TeenScreen National Center, along with comprehensive resources on substance abuse addiction and treatment from the Partnership for Drug-Free Kids, we are working to provide help and support for parents, as well as an understanding of the full spectrum of their teen's development. We are also collaborating to engage parents and caregivers through social media channels, and will explore opportunities to integrate website content to increase parental awareness and access to resources.
On May 25,the Partnership for Drug-Free Kids and the TeenScreen National Center will co-host a webinar for parents and health care professionals, featuring Dr. Jon Morgenstern from Columbia University and our own Fred Muench, PhD, Associate Director of Research. The webinar will help parents become more informed about general mental health markers in their teens, gain insight on teen brain development and the co-risk area between teen mental health and drug/alcohol use.