Every day we talk to committed parents and families who care about preventing drug and alcohol abuse and want to get involved with our organization. For our web-savvy parents and teens we have launched two social media campaigns to help raise awareness about this important issue.
Our Facebook Photo Campaign:
Share your reasons why Prevention of Drug & Alcohol Abuse is Important to You! Take a photo with your answer on this pdf, and post it on our Facebook page. Don't forget to tag yourself to spread the word.
This is what our Facebook fans are saying:
Our TWIBBON Campaign:
Help the Partnership for Drug-Free Kids by displaying your own virtual ribbon – a "Twibbon." Add our Twibbon sticker to your Facebook page or tweet your support.
Examples of personal Twibbons: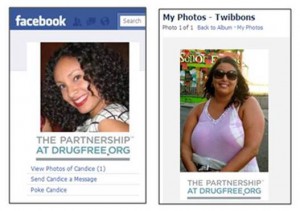 To find more tips on how to get involved, visit our new Give & Get Involved section.