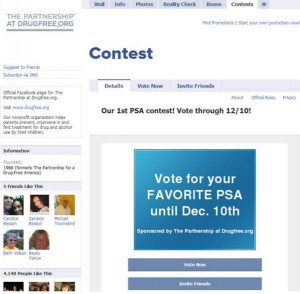 the Partnership for Drug-Free Kids launched a new online contest where our Facebook fans can view two of our brand new PSAs and cast their vote for their favorite on the contest tab.
The PSAs, titled "Tell Tale Signs" and "Flipbook," were created by the advertising agency Euro RSCG New York and feature the voice of actor Patricia Clarkson.  Both spots speak to parents to let them know "you are not alone," and draw a connection to the resources at drugfree.org.
"Tell Tale Signs," focuses on a mom at various points in her day looking worried and exhausted. The viewer is led to believe that she has a substance abuse problem, but as the spot continues, it becomes clear that she's not the one struggling with drugs and alcohol, but her daughter.
 
In "Flipbook," as the pages and tabs of a flip book turn, we see many of the people involved in a child's life: a doctor, a coach, a music instructor, a scout leader, a grandmother, etc. The spot underscores the message that parents rely on many partners to raise a child, and when drugs and drinking enter the picture: the Partnership for Drug-Free Kids is there, offering support, tools, resources and answers.
The contest runs until December 10, and the winning PSA will be featured on the Facebook page throughout the month. Be inspired and share the contest with your friends!
To find more news, tips and resources from the Partnership for Drug-Free Kids, visit our new and expanded website, and take a look at our new Give and Get Involved section.