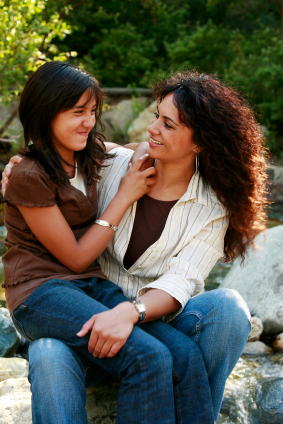 A new study demonstrates the successfulness of a prevention program that educates and equips parents and other caregivers to be better able to deal with their teens on drug and alcohol issues.  Its results were announced today by the Partnership for Drug-Free Kids.
The program, Parents360 Plus, is the latest innovation in PACT360, the law enforcement-led community education initiative developed by the Partnership for Drug-Free Kids with grant funding from the Bureau of Justice Assistance, Office of Justice Programs, U.S. Department of Justice. The study was an independent evaluation conducted by Community Science, an award-winning research and development organization. The key findings of this study show that parents who received the intervention training had significantly greater increases in the important measures of knowledge of substance abuse and related resources, and in self-efficacy (or confidence in their ability) in communicating with their teens on this topic than did control group parents who did not receive the intervention.
"It is noteworthy that there were significant effects three months later after a brief one-hour intervention, and without any further information being provided to test parents," said Dr. LaKeesha Woods, Senior Associate, Community Science. "It generally is difficult to see significant changes after a one-time intervention, and these findings are indicative of the power of the program content. The significant increases in parental self-efficacy are particularly promising because of the relationship between self-efficacy and taking action – especially in the face of obstacles."
"There is a recognized gap in existing prevention programs that increase parents' confidence in talking with their kids about drugs and alcohol and their ability to find resources that deal with the problem," said Steve Pasierb, president and CEO, the Partnership for Drug-Free Kids. "Parents360 Plus fills that gap and provides parents with the crucial tools and information they need to take positive action with their teens."
"We are very pleased with the results of the evaluation of Parents360 Plus," said Jim Burch, Deputy Director of the Bureau for Justice Assistance at the time of the study. "The Department of Justice places great importance on the ability of the programs it funds to be able to demonstrate positive outcomes and these results reinforce our confidence in the PACT360 program."
During the study, parents in the intervention group attended a one-hour instructional presentation that provided information about why kids use drugs and alcohol, tips on communicating with them, how to spot drug and alcohol use, and what to do when they find it. Parents were given a video – depicting real stories of teens who have dealt with substance abuse – to view with their child at home, and a discussion guide to help them talk with their teens about what they learned. A baseline survey questionnaire was administered to both intervention and control parents prior to the intervention presentation, and both groups received follow-up questionnaires one month and three months after the baseline test.
Parents in the intervention group reported that they talked with their children about substance abuse once or twice in the last 30 days, expressed strong disapproval for their children using any type of drug, and indicated they practiced monitoring behaviors regularly to stay aware of their children's whereabouts and activities. Eighty-eight percent of parents who attended the presentation also planned some of the suggested activities, with the vast majority of parents and teens reporting watching the program's video together.
"The bottom line is that Parents360 Plus further enhances our efforts to provide local law enforcement and all community stakeholders with information and tools to help families avoid the pitfalls of drug and alcohol abuse," Pasierb said. "Parent involvement is key to this effort.  Our research has consistently shown us that kids who learn about the dangers of drugs at home from a caring adult are up to 50% less likely to use."
This project was supported by Grant No. 2009-SC-B9-K001 awarded by the Bureau of Justice Assistance. The Bureau of Justice Assistance is a component of the Office of Justice Programs, which also includes the Bureau of Justice Statistics, the National Institute of Justice, the Office of Juvenile Justice and Delinquency Prevention, the Office for Victims of Crime, and the Office of Sex Offender Sentencing, Monitoring, Apprehending, Registering, and Tracking. Points of view or opinions in this document are those of the author and do not necessarily represent the official position or policies of the U.S. Department of Justice.