Don't Give Up on Your Power as a Parent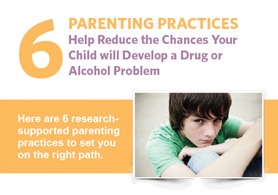 Just in! Six practices that can help reduce the chances a child will develop a drug or alcohol problem. 
Based on scientific research, our "Six Components of Effective Parenting" is a new tool comprised of "how-tos" specifically designed for parents, guardians and other caregivers who play an active role in helping prevent substance abuse in their families.
It's a product of the Parents Translational Research Center, which is a collaborative effort of the Partnership for Drug-Free Kids and the Treatment Research Institute.
Among the tips:
1. Build a warm and supportive relationship with your child.
2. Be a good role model when it comes to drinking, taking medicine and handling stress.
3. Know your child's risk level.
To read and learn more, download your guide today.
Actress Barbara Eden and Skater Christian Hosoi Among New You Are Not Alone Stories
Take a look at our new inspirational videos just added as part of our You Are Not Alone campaign. This inspiring series of testimonials was created as a message of hope to the families of teens and young adults facing drug addiction.
Among the new stories are Art Alexakis, lead singer and guitarist of Everclear, Barbara Eden of the classic television sitcom "I Dream of Jeannie," skateboarding legend Christian Hosoi, actor and filmmaker Josh Leonard and mother of three Jane Paulsen. All have unique, firsthand experience with teen substance abuse.
Please watch and share your own story today.  
Ten Percent of American Adults in Recovery from Substance Abuse Addiction
We just released new data showing that 10 percent of all American adults consider themselves to be in recovery from drug or alcohol abuse problems, a percentage that translates to 23.5 million American adults.
According to our new study, funded by The New York State Office of Alcoholism and Substance Abuse Services,10 percent of adults surveyed responded yes to the question, "Did you once have a problem with drugs or alcohol, but no longer do?" – one simple way of describing recovery from drug and alcohol abuse or addiction.
Learn how you can support friends and loved ones in recovery, share your own recovery story and take a look at a new publication and website dedicated to recovery, Renew magazine and RenewEveryDay.com. 
New Slidecast Demystifies Synthetic Drugs
You may have heard of teens using synthetic drugs like "Spice," "K2" and "bath salts," but do you know how these drugs are made or just how dangerous they are to those who use them?
We recently created an informative slidecast – already viewed more than 3,000 times within its first two weeks of release – with all the information you need to know about "K2," "bath salts," "Spice" and synthetic marijuana.
It explains everything from how these drugs are made, to what they look like and where teens are getting them, to what to look for if you think your teen is using them. You'll also find details about how these drugs affect the mind and body of their users. Just as with other drugs and harmful substances, it's crucial to stay educated about synthetics and the dangers they pose.
Watch and share the slidecast with others to help demystify – and curb the use of – these dangerous drugs. 
– Your Friends at the Partnership for Drug-Free Kids