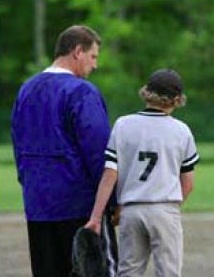 New York, NY (July 21, 2011) – the Partnership for Drug-Free Kids, in conjunction with Major League Baseball Charities (MLB), today announce the second annual Commissioner's Play Healthy Awards to celebrate extraordinary individuals on and off the playing field.  The awards are an extension of both organizations' comprehensive efforts, including the Play Healthy website, to educate families on the risks of steroids and performance-enhancing substances, and to recognize youth coaches and student athletes who embody the spirit of teamwork and healthy, drug-free competition.
One winning youth coach and one student athlete will receive prizes, including a trip for themselves and one special guest to New York City.  The winning coach and athlete will also receive two tickets each to the Partnership for Drug-Free Kids's annual gala at The Waldorf=Astoria on October 18, 2011, where they will be honored.  Additional prizes will consist of a $1,000 gift card, a commemorative plaque presented at the gala and the opportunity to be featured prominently on drugfree.org.
A panel of judges will determine the winners by reviewing all nominees who demonstrate their commitment to fair, drug-free play and an overall healthy lifestyle.  Additionally, the judges will evaluate the nominee's commitment to leadership, sportsmanship and encouragement of others on and off the field.  The applications consist of general information about the athlete or coach and three short essays.
Baseball Commissioner Allan H. (Bud) Selig said: "Major League Baseball's relationship with the Partnership for Drug-Free Kids is an important part of our effort toward teaching children about playing healthy.  Last year's inaugural Play Healthy Awards were a successful way to highlight the importance of healthy and fair play by acknowledging a coach and student-athlete who competed the right way.  We look forward to recognizing two new recipients to serve as examples for the thousands of student-athletes and coaches around the country."
 
"We've learned the vital role played by youth coaches and exemplary student athletes in promoting healthy sports play in their schools and communities," said Steve Pasierb, President of the Partnership for Drug-Free Kids.  "MLB has been an outstanding, tireless partner in our educational programs and it's an honor to partner again this year to recognize and reward those people who help change the lives of others.  The Commissioner's Play Healthy Award is just one of the many ways MLB and the Partnership for Drug-Free Kids work together to educate teens and families about the risks of steroids and performance-enhancing substances, as well as the value of healthy competition."
Patty Sterner, a mother and the youth track coach of Dassel-Cokato High School in Dassel, Minnesota, and Loureen Prudente, an Athens High School student and athlete from Troy, Michigan, were the recipients of the first-ever Commissioner's Play Healthy Awards last year.
Nominations may be submitted online at drugfree.org/playhealthy from Thursday, July 21, 2011 to Friday, September 16, 2011.  Nominees for the student athlete award must be between 13 and 18 years old and nominees for the youth coach award must coach teams of students who are between the ages of 13 to 18.  All nominations must be made by someone other than the person being nominated.  Winners of the Commissioner's Play Healthy Award will be notified on Friday, September 30, 2011, and announced on Tuesday, October 18, 2011.  Please visit drugfree.org/playhealthy for additional contest rules and regulations.
# # # #
About the Partnership for Drug-Free Kids
The Partnership at Drugfree.org is a nonprofit organization that helps parents prevent, intervene in and find treatment for drug and alcohol use by their children.  Bringing together renowned scientists, parent experts and communications professionals, this public health nonprofit translates current research on teen behavior, parenting, addiction and treatment into easy-to-understand resources at drugfree.org. The organization also reaches families through its community education programs which focus on local drug and alcohol issues of concern for parents, youth and the Hispanic community. the Partnership for Drug-Free Kids depends on donations from individuals, corporations, foundations and the public sector and is thankful to SAG/AFTRA and the advertising and media industries for their ongoing generosity.