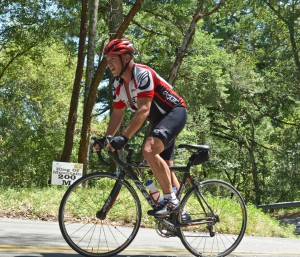 We are grateful for Andy Blasquez's participation in the Sonoma Echelon Gran Fondo cycling event last month to benefit the Partnership for Drug-Free Kids. Andy completed 75 miles in the California-based bike tour to help support our vision to ensure young people will be able to live their lives free of drug and alcohol abuse.
He shared that the arduous conditions and high heat almost had him give up on the long ride, but "something special happened. I realized that for my charity, The Partnership for Drugfree.org, and their beneficiaries, they don't get to just stop." Andy explained, "Stopping was no longer a privilege that I was going to afford myself.  It wasn't my spirit that got me up, out of the dirt and back on my feet, but the heartache that I feel for people who have been through a hell I'll never know. I did it for the heartache that I need to prevent for the next family…and the next."  Watch his personal journey throughout the event on YouTube.
The father of two raised more than $1,000 as a champion of our cause and plans to participate in the next Echelon Gran Fondo in Palo Alto, CA on September 16, 2012. Find out how you can support Andy's efforts on his personal fundraising webpage.
To learn how you can plan an event to support the Partnership for Drug-Free Kids, please visit Grassroots Fundraising.