~Google+ Hangout On Air Featuring 12 Inspiring Women for Powerful Story Sharing~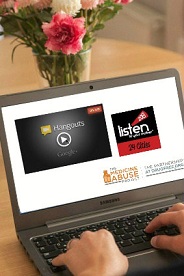 September 4, 2013 [New York, NY] – From New York City to San Francisco and Madison, Wisconsin to Austin, Texas, the Listen To Your Mother (LTYM) Reading Series (www.ListenToYourMotherShow.com) has provided an open mic to women across the country for live-staged readings. For the first time, LTYM has joined forces with the Partnership for Drug-Free Kids to host an exclusive live-streaming event via Google+ Hangout On Air, taking place on Tuesday, September 10 at 9 p.m. EDT. The live readings will feature 12 leading women voices on the subject of medicine abuse – a health issue that the Centers for Disease Control and Prevention now calls an "epidemic."
"We are proud to partner with Listen To Your Mother and give a platform to influential moms across the country," said Steve Pasierb, President and CEO of the Partnership for Drug-Free Kids. "It's through their creative voices, in communities connected to parents and families, that we'll be able to further share the message of prevention and encourage others to join us in helping end teen abuse of prescription drugs and over-the-counter cough syrup."
The Medicine Abuse Project is a multi-year initiative of the national nonprofit, the Partnership for Drug-Free Kids. Its goal is to prevent half a million teens from abusing medicine by 2017. The Project provides comprehensive resources to parents, educators, health care providers, law enforcement officials and others about the growing problem of teen medicine abuse. The effort aims to mobilize parents and the public at large to take action. This includes learning about the issue, talking with their kids about the dangers of misuse and abuse of prescription drugs and properly monitoring, safeguarding and disposing of excess Rx drugs in their homes.
"We are thrilled to be working with the Partnership for Drug-Free Kids," said Ann Imig, Founder, Listen To Your Mother Show. "Working with nonprofits is a big passion of ours, and the fact that we both involve storytelling as part of our mission as a common thread is wonderful. We hope to empower many families across the country to take action and end medicine abuse."
The live readings will feature the following 12 women voices:
These readings will feature new and original work about each of the women's personal connections to addiction, substance use, and/or what they want children to know about the medicine abuse epidemic in a powerful story-sharing hour. The event will be live-streamed from Google+ Hangout On Air and the Listen To Your Mother YouTube channel. Please visit www.drugfree.org/newsroom/listen-to-your-mother Tuesday, September 10 shortly prior to 9 p.m. EDT for links to join the event.
To learn more about The Medicine Abuse Project, visit drugfree.org/MedicineAbuseProject and follow the conversation online at #endmedicineabuse. 
#   #   #
About Listen To Your Mother
Born of the Blogosphere and mothers who publish online, the Listen To Your Mother Reading Series is changing the way America celebrates Mother's Day, one story at a time. Started in Madison, Wisconsin in 2010 by humorist and blogger Ann Imig, it has evolved into an exciting national storytelling series and every show's process, from auditions to rehearsals to the final performances, are shared online via social media. Each show/city also donates 10% of all ticket proceeds to local nonprofit causes that support women and families in need. The 2013 season raised over $18,000 for local charities.
Featuring over 300 inspirational women, the Listen To Your Mother reading series is a unique national event that showcases moving, socially relevant and humorous stories about a range of modern mothering experiences. In each city, the series featured local established writers and performers taking the stage with local first time writers as well as professional authors and performers as they share poignant personal essays in front of live audiences, making for an unforgettable experience and celebrating motherhood in a meaningful new way.
Some of the participants who performed this year in the series include former Editor in Chief of Redbook Stacy Morrison (now Editor in Chief of BlogHer.com), Adrian Culp (the former VP of TV Development for Adam Sandler & Chelsea Handler), Liysa Callsen (who was raised by deaf parents and will sign her story), comedian Jaime Fernandez, and Barb Patrick, a mother from Newtown, CT. 
About the Partnership for Drug-Free Kids
Ninety percent of addictions start in the teenage years. The Partnership at Drugfree.org is dedicated to solving the problem of teen substance abuse. Together with experts in science, parenting and communications, the nonprofit translates research on teen behavior, addiction and treatment into useful and effective resources for both individuals and communities. Working toward a vision where all young people will be able to live their lives free of drug and alcohol abuse, the Partnership for Drug-Free Kids works with parents and other influencers to help them prevent and get help for drug and alcohol abuse by teens and young adults. The organization depends on donations from individuals, corporations, foundations and the public sector and is thankful to SAG-AFTRA and the advertising and media industries for their ongoing generosity. If you or someone you know if struggling with drug or alcohol abuse, please call The Parents Toll-Free Helpline at 1-855-DRUGFREE.