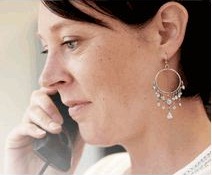 CIGNA and the Partnership for Drug-Free Kids are hosting a monthly series of telephone seminars that will help you better understand today's changing landscape of substance abuse. The seminars are free and there is no registration required. They're open to any parent, caregiver or loved one interested in learning more about teen drug addiction. Each seminar will include the participation of a leading expert within the field and a parent from the Partnership for Drug-Free Kids's Parent Advisory Board, who will share his or her personal experience with the topic being presented.
WHAT:
WHO:
Sarah Lewis-Fernandez, CASAC, LMSW, CAC, CT, is the Assistant Program Director of Dynamic Youth Community Inc., an adolescent outpatient program in Brooklyn, New York. She is a credentialed Alcoholism and Substance Abuse Counselor, a 2004 graduate of Hunter College of the City University of New York with a Bachelor in Sociology degree and received her Master of Social Work in 2007 from Barry University in Miami FL.
Sarah is a lifelong student and teacher in the field of substance abuse and mental health. In 1995 she began her professional work specializing in treatment of adolescents and their family members, trauma survivors, the homeless and individuals with HIV/AIDS.
Marissa Manlove
, mother, Co-Chair of the Parent Advisory Board of the Partnership for Drug-Free Kids, and Founding Board Chair of
The 24 Group
, a local parent support and education group in Indianapolis, Indiana. Her passion for this issue was sparked by personal tragedy, following the 2001 death of her then 16-year-old son David from a substance abuse-related drowning.
WHEN:
Wednesday, April 18, 2012
Noon- 1:00 pm EST
HOW:
For U.S./Canada residents, dial the toll-free number 1 (866) 431-5314 and international residents dial the toll-free number 1 (719) 457-2626. When prompted, enter the passcode 602873.
####
About Cigna
Cigna (NYSE: CI) is a global health service and financial company dedicated to helping people improve their health, well-being and sense of security. Cigna Corporation's operating subsidiaries in the United States provide an integrated suite of health services, such as medical, dental, behavioral health, pharmacy and vision care benefits, as well as group life, accident and disability insurance. Cigna offers products and services in 30 countries and jurisdictions and has approximately 66 million customer relationships throughout the world. All products and services are provided exclusively by such operating subsidiaries and not by Cigna Corporation. Such operating subsidiaries include Life Insurance Company of North America, Cigna Life Insurance Company of New York, and Connecticut General Life Insurance Company. To learn more about Cigna, visit
www.cigna.com
.