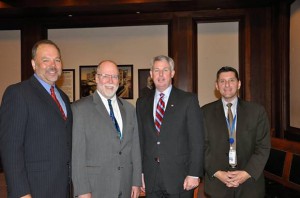 This past Wednesday, we teamed up with Massachusetts officials at a State House briefing to reveal the findings of a recent statewide survey showing that more than half of parents say their kids have access to abusable prescription drugs in their homes. 
The photo shows (from left to right) Steve Pasierb (CEO and President, the Partnership for Drug-Free Kids), Will Luzier (Executive Director, Interagency Council on Substance Abuse and Prevention), Massachusetts State Senator John Keenan and Michael Botticelli (Director of the Massachusetts Bureau of Substance Abuse Services) at the event.
The briefing and survey findings received extensive media coverage in Massachusetts.  Take a look at some news highlights below:
The Boston Globe's "Daily Dose" Column
The story was also covered on air by WHDH-TV, WBGH radio, WBUR, Neighborhood Network News and WBZ radio.