I am a youth coach from Beltsville, Maryland, and last year, I was selected from a nationwide search as a recipient of the fourth annual Commissioner's Play Healthy Awards.
My wife and I had an amazing experience as we traveled to New York City where I was honored at the Partnership for Drug-Free Kids' Winter Wish Gala.
At the event, I met people from all over the country, and though we were all different, we had one thing in common: the desire to combat the use of steroids and performance enhancing substances. We are serious about being good stewards to our children, and we are clear that these substances should not be in the hands of our kids, and have no place on any playing field.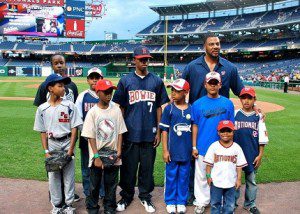 As the end of the school year draws near, I encourage each parent, administrator, and coach to look within your community and nominate a youth coach or student athlete who has done extraordinary work to encourage healthy play among young people for this year's Commissioner's Play Healthy Awards. This is the person making an impact in the lives of our kids each and every day. You can give them the experience of a lifetime. We all know that teamwork makes the dream work, so nominate that special individual who inspires our kids, and stands for healthy competition in a fun and drug-free environment.
Get involved with the Commissioner's Play Healthy Awards contest today!