~Google Hangout On Air Featuring 12 Inspiring Women for Powerful Story Sharing~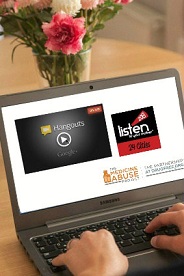 From New York City to San Francisco and Madison, Wisconsin to Austin, Texas, the Listen To Your Mother (LTYM) Reading Series (www.ListenToYourMotherShow.com) has provided an open mic to women across the country for live-staged readings. For the first time, LTYM has joined forces with the Partnership for Drug-Free Kids to host an exclusive live-streaming event via Google Hangout On Air, taking place on Tuesday, September 10 at 9 p.m. EDT. The live readings will feature 12 leading women voices on the subject of medicine abuse – a health issue that the Centers for Disease Control and Prevention now calls an "epidemic."
The Medicine Abuse Project is a multi-year initiative of the national nonprofit, the Partnership for Drug-Free Kids. Its goal is to prevent half a million teens from abusing medicine by 2017. The Project provides comprehensive resources to parents, educators, health care providers, law enforcement officials and others about the growing problem of teen medicine abuse. The effort aims to mobilize parents and the public at large to take action. This includes learning about the issue, talking with their kids about the dangers of misuse and abuse of prescription drugs and properly monitoring, safeguarding and disposing of excess Rx drugs in their homes.
These readings will feature new and original work about each of the women's personal connections to addiction, substance use, and/or what they want children to know about the medicine abuse epidemic in a powerful story-sharing hour.
Here's how you can join:
1) The event will be live-streamed from Google+ Hangout On Air:
-Please visit https://plus.google.com/u/0/events/c96turthm5bo09590tt5iqbo734.
-Participants will be able to join the event, with or without a Google+ profile, but will need to have a Google+ profile in order to post any comments or questions.
2) Visit the Listen To Your Mother YouTube channel to watch the event and post any comments or questions.
To learn more about The Medicine Abuse Project, visit drugfree.org/MedicineAbuseProject and follow the conversation online at #endmedicineabuse.