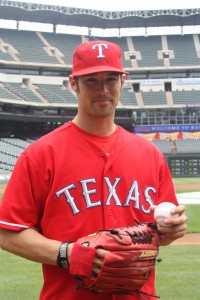 Tomorrow, Texas Rangers' All-Star pitcher and philanthropist C.J. Wilson and his teammates will face the St. Louis Cardinals in Game 6 of the World Series. 
This summer, C.J. joined our efforts to promote healthy competition and the importance of a drug-free lifestyle.  From an early age, C.J. made a choice to stay away from drugs and alcohol as he understood how substance abuse could negatively affect his performance both on and off the field.  C.J. is active in emphasizing the value of fair, healthy sports through our Major League Baseball Play Healthy initiative.
We wish C.J. the best of luck tomorrow and thank him for his support of our cause.