In case you didn't see our February newsletter, take a look below.  If you'd like to receive them going forward, please sign up here.
Welcome to the Partnership for Drug-Free Kids's eNewsletter, a monthly update designed to keep you apprised of news, activities and ways to get involved.
Words of Hope Contest
" 'Hope' soars on our behalf when and where we cannot. Hope is our truest companion…"
— SONGBIRD
Do you have words of encouragement for parents of a child struggling with drugs and alcohol? If so, please join our community of parents on Time To Get Help and share them in our Words of Hope Contest!  Submit your Words of Hope, and you will be automatically entered to win a free spa package courtesy of Red Door Spas. The contest runs now until Monday, March 14. Please visit the Words of Hope Contest for rules.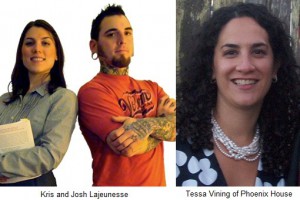 Meet the Parents Hour on Facebook
You're invited to our second "Meet the Parents Hour," a popular, LIVE Facebook chat and Q & A session on Friday, February 18 at 12 p.m. EST, focused on the effects of teen drug addiction on families and sibling relationships.
The hour will feature Josh and Kris Lajeunesse, the brother and sister duo behind Unabridged- Overcoming Addiction, a series of podcasts and videos that recount their experiences through Josh's drug addiction, arrest, rehabilitation and sobriety. Special guest Tessa Vining, LCSW, CASAC, Clinical Director at Phoenix House, a provider of alcohol and drug abuse treatment services, will address questions about how to help encourage a sibling who is battling addiction toward treatment and recovery.
Joining the chat is easy. Just go to our comment thread under Josh and Kris' photo on our Facebook wall.   And remember to refresh your browser. Log on and participate…we want to hear from you!
New Blog Tackles Tough Questions with Law Enforcement
Our new blog on the PACT360 website gives parents the chance to ask relevant and timely questions of law enforcement officers, prevention and treatment professionals – the women and men at the forefront of teen substance abuse and addiction.
Part of our community education program, the online forum provides law enforcement the opportunity to share their perspectives on prevention with parents, answering questions like: What are the latest drug trends? What things do parents worry too much about when it comes to drugs and alcohol? What are police officers in your state doing to keep our kids safe? Read their answers and join the conversation.
– Your Friends at the Partnership for Drug-Free Kids