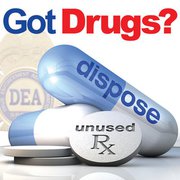 Every day, 2,500 teenagers use a prescription drug to get high for the first time.  They're accessing these drugs in the comfort of home; it can be as easy as opening a cupboard, drawer or medicine cabinet.
To help combat the alarming rates of prescription drug abuse in the United States, the Drug Enforcement Administration (DEA) is hosting its third National Take-Back Day, an effort to collect potentially dangerous, expired, misused and unwanted prescription drugs for safe destruction at thousands of sites nationwide.  The service is free and anonymous and will take place on Saturday, October 29, 2011 from 10 a.m. to 2 p.m.
Americans who participated in the DEA's second National Prescription Drug Take-Back event on April 30 turned in more than 376,593 pounds (188 tons) of unwanted or expired medications for safe and proper disposal at more than 5,300 take-back sites in all 50 states. This is 55 percent more than the 242,000 pounds (121 tons) the public brought in during the DEA's September 2010 event.
Collection sites can be found on the DEA's website, which will be continuously updated with new take-back locations.  Anyone interested in hosting a take-back event in their communities are encouraged to contact their local police or sheriff's office.