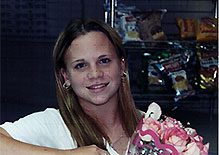 I raised my three children in a house in a suburb of Philadelphia.  It is a quiet and cozy neighborhood, within walking distance to a major mall, but also surrounded by woods and athletic fields.  It seemed the best of all possible worlds: convenience combined with seclusion, encircled by the great outdoors. There were plenty of community activities, too — local youth sports teams, movies, and a roller-skating rink.
Unfortunately, however, ours was not a happy home.  Despite countless attempts at counseling, my marriage was filled with constant conflict.  Sadly, this affected all three children adversely.  My two sons, who were 4 and 5 years older than Katie, learned negativity from an early age.  Even though there were tender moments, there were also many put-downs between them.  I cannot blame them for their behavior toward their sister, however, because they were victims as well.
Katie was always a spunky girl, frequently causing a sensation wherever she went.   Once at an amusement park trip she donned a costume and participated in an impromptu play.  Another time the intensity of her bumper car driving drew attention from spectators. A few years later, she had half the boardwalk cheering her on as she climbed higher up a rock climbing wall than anyone else had that night. That was my Katie.
The same was true of her performance in soccer and field hockey — she played with gusto.  Bystanders would say, "Look at that little one go!" One year, her soccer team played an undefeated opposing team.  They only had one goal scored against them the entire season — the one kicked by my fearless little girl.
As a young child, Katie had many interests and talents.  Imitating her brothers, she began dribbling a soccer ball shortly after she started walking.  She played on her first soccer team at age 4.  She loved roller skating and usually won the races at the rink.  One of her field hockey coaches felt that she had Olympic potential.  For two summers, she went away to college for field hockey camp.  She participated in Girl Scouts, and went camping and fishing with her dad.  As a cheerleader, she was thrilled to be the "little one" that got thrown up in the air.  In school, she enjoyed ceramics, crafts, sewing, cooking and photography.  She also loved clothes shopping and going to the movies.
Katie was kind-hearted, too.  A few times, she treated me to the movies.  She had deep compassion for homeless people she would see, and, in school, she often befriended those who were unpopular.  I always told her that the thing that made me proudest of her was that she was truly a good person who cared about others.
My relationship with Katie was very, very special.  I think that that is a mother-daughter thing — and she was my daughter, my only daughter.  I loved and adored her, and she always made it very clear to me, that she loved me.  I liked to stroke her hair and kiss her cheeks. Once, she gave me her "Tender Heart" bear to keep me company at night.
However, around the time Katie started high school, things began to get somewhat turbulent.  At times, she would lash out at me verbally and even physically.  It really hurt, but it is only in retrospect that I realize these episodes were surely drug-related.  They were very painful to me, but I attributed them to normal adolescent mood swings, coupled with a dysfunctional family background.
Katie's brothers got into trouble in the neighborhood and in school.  I always looked at Katie as my "good" kid.  Never in a million years would I have predicted that my baby girl would have gotten involved in drugs.
It was the summer between Katie's eighth and ninth grade years that I first learned of her marijuana use.  I'd gotten a tip from one of her brothers and, after getting over my shock, I confronted her with a trip to the doctor's for a urine test (UT).  I literally dragged her there in her pajamas.  She refused the UT, but had a long talk with the doctor and finally confessed she had smoked pot.  However, she told the doctor that she was just experimenting and that she would never do it again.  Katie was extremely convincing and the doctor and I believed her, but I did tell her that I would be doing follow-up UTs because she would have to regain my trust.
To this day, I still do not know exactly when she first started smoking weed, or who introduced her to it, but I have learned that teen drug use is surprising rampant in my community.  So many of her friends from her elementary school days have used drugs and continue to use drugs, that it is hard to fathom.  It is not like it was a group of "bad kids" she met on the streets somewhere.
Katie assured me that she was done with weed, and I thought everything was going well.   But, in her sophomore year, I learned she was doing cocaine.  Again, this information came from her brother, whereupon I searched her room and found notes written to her by a friend, begging her to stop using crack.  This really shook me.  How could my baby girl possibly do something as serious as cocaine?  It was just plain incomprehensible.
During these years, we'd participated in outpatient rehab programs and I'd gone the UT route several times, until I found out that these kids, Katie included, have studied how to beat these tests, and a clean UT is not necessarily any guarantee.  It would be hard for your average parent to compete with their level of knowledge and expertise in all things drug-related.
All had seemed to be going well for the rest of Katie's tenth grade year and the fall of her junior year, but around Christmas, she became sad and depressed.  We got her on an antidepressant.  Previously, she'd resisted, saying that she didn't want to be reliant on pills to make her happy.  In 2003, she got her driver's license and a car, and we talked about my concerns about her newfound ability to travel easily.  She responded readily by saying that having a car was a big advantage because now, unlike before, if she found herself someplace where people were using drugs, she could just leave. God, was she convincing! And I believed her. Why?  I guess because I wanted to believe her.
On March 27, 2003 she came to me, saying she needed to talk, but that she feared I wouldn't love her anymore.  She told me she'd begun using heroin, that it was a monster that she couldn't control, and that she wanted to stop.  She told me, however, that she would need to go inpatient, because outpatient hadn't worked.  I was floored.  With trembling hands, I began flipping through the phone book calling drug hotlines.  But unfortunately she was denied inpatient care because her condition wasn't considered serious enough.
Three months after admitting her problem and asking for help, Katie died in bed at her father's house.  Her lungs were filled with fluid in reaction to the toxins in the heroin.  She had been introduced to the drug by a boyfriend she'd begun seeing in January of 2003.  I'd estimate she'd used for five months before dying.
I miss Katie every day and I feel like I have a huge, gaping hole where my heart used to be.  I would gladly make a deal with Satan himself if I could get her back.  I try to keep busy and I try to help others in an effort to cope with losing my baby girl, but it is extremely difficult.
To obtain proper substance abuse treatment for your child you will need to go to battle to get the appropriate level of care for his or her illness.  You can not be meek about this because you really are fighting their life and you must do whatever it takes to get them help.
I disagree with the notion of "Let go with love."  Would you "let go with love" if your child were sick with cancer?  I don't think so.  They are ill and you need to take the bull by the horns and fight with your last ounce of courage in order to get them appropriate treatment.
But, sadly, the best way to get the most comprehensive treatment for your loved one is for them to commit a crime and get sentenced to drug rehabilitation.  Based on what I've heard, that is the only way to get the months of treatment that this terminal illness really warrants.  Otherwise, you'll be looking at a maximum of 30 days inpatient, for which you will have to fight tooth and nail, every day, to get.  Until our society comes out of the Dark Ages about the illness of addiction, that is the sad reality of getting treatment for this fatal affliction.
– Sue Shields