FDA Will Not Approve Generic Versions of Original OxyContin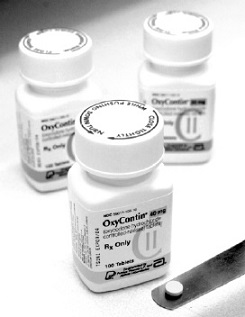 The Food and Drug Administration (FDA) announced Tuesday it will not approve any generic versions of the original form of OxyContin. The move is aimed at preventing prescription drug abuse, Reuters reports. The original version of OxyContin could be crushed and then snorted or injected. Its patent was set to expire on Tuesday.
The FDA also approved new labeling for a reformulated version of the drug, which will indicate it is more difficult to crush, and thus harder to abuse than the original version. OxyContin's manufacturer, Purdue Pharma, introduced the tamper-resistant formula in 2010.
"The development of abuse-deterrent opioid analgesics is a public health priority for the FDA," Douglas Throckmorton, MD, Deputy Director for Regulatory Programs in the FDA's Center for Drug Evaluation and Research, said in a statement. "While both original and reformulated OxyContin are subject to abuse and misuse, the FDA has determined that reformulated OxyContin can be expected to make abuse by injection difficult and expected to reduce abuse by snorting compared to original OxyContin."
Representative Hal Rogers of Kentucky, Co-Chairman of the Congressional Caucus on Prescription Drug Abuse, said in a statement, "This is a huge win for our region and for the thousands of families who have seen painkillers become pain makers. The FDA undoubtedly saved our nation from another deadly tidal wave of oxycodone abuse and overdoses."