Arizona Doctors Fear Sales Spike in "Bath Salts" Ahead of DEA Ban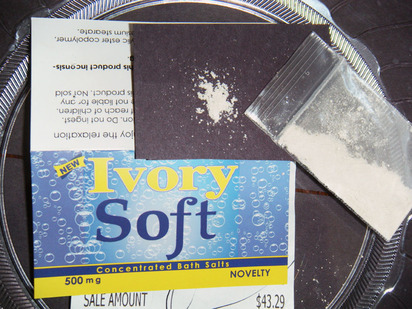 Doctors in Arizona say they are concerned there will be a spike in sales of "bath salts" this month, as stores try to unload the synthetic drugs at cut-rate prices before a Drug Enforcement Administration (DEA) ban takes effect next month.
"I worry that we will see a spike in (use and sales)" of the drug until that ban takes effect, Jason Caplan, Chairman of the Department of Psychiatry at St. Joseph's Hospital and Medical Center in Phoenix, told The Arizona Republic.
The newspaper found more than a half-dozen Phoenix-area smoke shops still sell bath salts in small jars or vials with brand names including "Vanilla Sky," "Ivory Wave" or "Bliss." One smoke shop has a "buy one vial, get a second one for 50 percent off" sale through the end of September.
The DEA announced earlier this month it is temporarily banning three synthetic stimulants sold as bath salts. The ban makes it illegal to possess and sell these chemicals or the products that contain them. The DEA said the action is necessary to protect the public from the imminent hazard posed by these dangerous chemicals.
The DEA has designated the chemicals as Schedule I substances, the most restrictive category of drugs, which are considered unsafe, highly abused substances with no currently accepted medical use in the United States. The ban will take effect in 30 days, and will last at least one year. During that time, the government will study whether it should permanently ban the three stimulants, Mephedrone, MDPV and Methylone.
According to the DEA, users have reported impaired perception, reduced motor control, disorientation, extreme paranoia and violent episodes. Bath salts have become increasingly popular among teens and young adults.