Aggression Caused by Family Violence May Lead to Substance Abuse, Study Suggests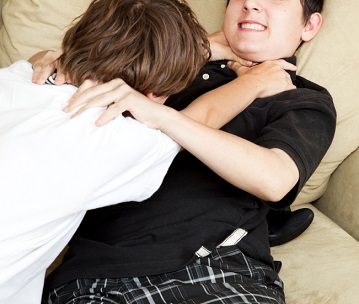 Boys who are exposed to family violence become more aggressive toward their classmates, and this behavior is linked with greater levels of substance abuse over time, according to a new study.
The study looked at the effects of family violence, including verbal and physical aggression between siblings, Medical Xpress reports. Most previous studies of family violence and its effects have focused on parents' behavior, the article notes.
The University of Illinois researchers studied more than 1,200 students at four middle schools, who completed questionnaires about their levels of substance abuse, and whether they engaged in fighting and bullying. They were asked about conflicts in their homes, including arguing, teasing and physical aggression between siblings.
They found bullying and fighting are linked to family violence and substance abuse in boys. Girls exposed to family violence reported higher levels of substance abuse over time, which was not associated with bullying and fighting.
The study appears in the Journal of Research on Adolescence.
"There's been a growing consensus that family violence is a training ground for peer aggression and associated risk behaviors such as substance abuse," lead researcher Dorothy Espelage said in a news release. "However, awareness of the impact of sibling aggression on bullying has lagged behind other types of family violence. It is imperative that researchers investigating the family context of bullying and substance abuse examine not only violence involving parents but also that involving siblings."