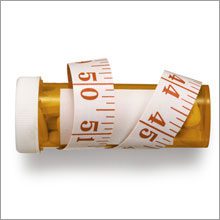 What are Anorectic Drugs?
A number of drugs have been developed and marketed to replace amphetamines as appetite suppressants. These anorectic drugs include benzphetamine (Didrex), diethylproprion (Tenuate, Tepanil), fenfluramine (Pondimin), mazindol (Sanorex, Mazanor), phendimetrazine (Bontril, Prelu-2, Plegine) and phentermine (Ionamin, AdipexP).
What are its short term effects?
They produce many of the effects of the amphetamines, but are generally less potent. All are controlled substances because of the similarity of their effects to those of the amphetamines.
What is its federal classification?
Schedule III
Source: Drug Enforcement Agency (DEA). *Some drugs including Phentermine, Diethylpropion (Tenuate, Tepanil) and Mazindol (Sanorex, Mazanor) are Schedule IV
Feeling Overwhelmed or Have a Question About Your Child's Drug or Alcohol Use? Call our Parents Toll-Free Helpline: 1-855-DRUGFREE (1-855-378-4373).

Additional Photos